Amber Wick began working within the emerging recreational industry in 2014. She worked with 404 Spot in Pueblo to maintain compliance regulatory statutes in the day to day operations within Marijuana Enforcement Division (MED) guidelines.
Her responsibilities included all aspects of the dispensary business: Maintained patient database and performed administrative tasks for the business owner's licensing applications and renewals. Managed store inventory and day to day sales accounting and reporting with state mandated METRC system. Developed inventory monitoring for loss prevention. Performed regular reporting on sales and inventory numbers. Verified incoming orders, manifests and cash payments. Developed job titles, duties & expectations. Streamlined employee scheduling and trained on cash handling techniques and etiquette. Worked closely with I- Comply developing SOPs for both retail and medical sales and grows. Oversaw compliance regulations and ordering of all safety containers. Create new sales relationships based on new products, industry trends, product demand, and compliance regulations. maintain, and manage quality wholesale and processing relationships with dispensaries, edibles manufacturers, and other cannabis businesses. 
Over the next five years Amber's knowledge and experience helped both start-ups and established companies in the United States and Canada including NuVue Pharm, PhytaTech Laboratory Testing, Colorado Green Labs, Med Men, Let's Grow Hemp and Yeti Farms.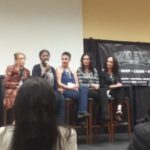 A long history of cannabis cultivation and a degree in chemistry aided Amber's knowledge of the process of BHO extractions and the finished products of budder, shatter, waxes, rosin & live resin. She works with hemp farmers through out the country, helping set up their businesses, secure seed, processing, and sales. She works with CBD start-ups to secure manufacturing and white labeling. 
In 2015 she founded Grasshopper Staffing Inc based in Pueblo, Colorado. Amber Wick recruited, hired, trained and motivated staff. She developed forms, contracts, employee handbooks, as well as, policies and procedures. To provide better qualified job candidates, Amber developed training programs on propagation (cloning and transplanting), trimming (wet and dry) and budtending (medical & retail) through collaboration with local retail grow for hands-on opportunity to get a real-world experience.